Armed Forces Support


Preston is proud of its military connections. Many people from the city serve in the armed forces and Preston is also home to Fulwood Barracks. The barracks houses the Lancashire Infantry Museum as well as being a working barracks which currently remains open until 2027.
Armed Forces Covenant Hub
Preston City Council is a proud supporter of the Armed Forces, working closely with the Armed Forces Covenant Hub which is situated within Preston at the University.
The Local Authority signed the Armed Forces Community Covenant in 2012 and was awarded the AFC Employer Recognition Scheme Silver Award in 2022 and are continuing to work with the Armed Forces and veterans' groups to improve local services for people who are ex-service or still serving.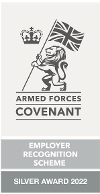 The Armed Forces Covenant is a promise from the nation ensuring that those who serve or who have served, and their families, are treated fairly. This commitment is made in recognition of the sacrifices they make on behalf of the country.
Veterans and current armed forces personnel are honoured with an annual Remembrance Sunday service at the recently restored Cenotaph on the Flag Market, enabling Preston to pay its respects to those soldiers who have died in conflict.
Preston City Council also supports Armed Forces Day, with a flag raising event, and service each year, attended by the Mayor and local regiments [4 Lancs and 3 Med], showing the city's solidarity with current serving personnel.
The city council are working towards ensuring that all front-line staff receive the 'One Voice' training to provide council staff with an overview of what the Armed Forces Covenant is, have deeper insight into the Armed Forces Community, where they may need support and to explore how public sector workers can help the community further.
The city council is committed to supporting our armed forces personnel and families through a wide range of housing options too. Support is given to prevent homelessness when leaving or facing housing, accommodation issues after leaving the Armed Forces.
Since signing the Armed Forces Covenant in 2012, Preston City Council has created a local Armed Forces Network Group to promote the covenant and share information. across the city.
PNE Forces
The city is also home to Preston North End Football Club, a founder member of the Football League. The PNE Forces programme is an initiative run by Preston North End Community and Education Trust which is open to anyone who currently or has previously served in the Armed Forces.
The initiative includes football and social sessions designed to allow forces members of both past and present a way to keep active while forming new relationships with like-minded people.
Dig In North West
Within Ashton Park, there is a private walled garden which is home to an organisation - 'Dig In North West' where Members of our Armed Forces - serving or veteran, regular or reservist or members of any Blue Light Service - are welcomed to join in with gardening, carpentry, photography, a chat, and even a brew or two.
District Provision Tool
The District Provision Tool provides information and links to support for the Armed Forces Community, including housing, finances, employment, health, training and education.