A blooming great Preston Charity that continues to grow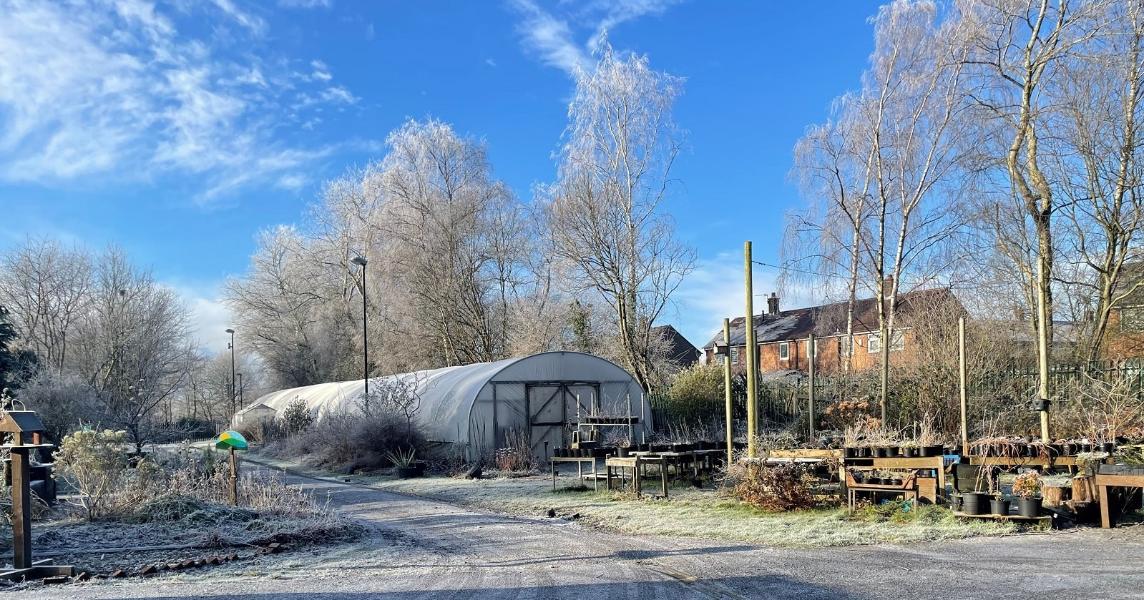 An award-winning charity is supporting Preston residents through its work with local communities through horticulture.
Let's Grow Preston, with its six staff and army of volunteers, offers local people a chance to get involved with gardening across its four sites.
Not only is this a great way to get to know more about growing your own produce, but it is also a way to meet other people, call in for a brew and talk to someone who can signpost you to further help if you need it.
Annie Wynn, BEM, is passionate about the difference Let's Grow Preston makes, including being part of Preston's Food Hub Network.

Annie said:
"Let's Grow Preston offers many services, following the principles of social therapy in horticulture - the process of using plants and gardens to improve physical and mental health, as well as communication and thinking skills. We help create and improve green spaces in Preston to impact the lives of people living in those communities.

"This can appeal to people of all ages; whether they need a safe warm space, need someone to chat to in a relaxed atmosphere or just want to learn how to become more self-sufficient by growing their own produce."
Established in 2011, Let's Grow Preston operates from:
Ashton Park
Waverley Park
The Hub on Grange Park
Grange Park Community Garden where anyone can get involved.
"You don't have to be interested in gardening to feel the benefits of what we do."
Let's Grow Preston supports a network of community gardeners and Friends groups across Preston's parks.
They offer monthly network meetings for the members of the network and Preston's 650 allotmenteers also work with Let's Grow, often donating surplus food for Preston's food network, a collection of 41 food banks across the city.
Let's Grow Preston even donate established plants, such as tomatoes and potatoes, to vulnerable local school children.
Annie said:
"We connect with a number of organisations across the city. For example, we will lend our tools to another organisation if they are holding a gardening community event. We have also received large donations to the charity from local businesses who really buy into what we offer the local community, like Peter H Smith Florist and Sundries, Seddons and Fox Brothers.

"When people come to one of our gardens and help out, they will also leave with any surplus food from our community garden.

"Because we are so connected with other groups around Preston, we can signpost anyone who is struggling with the pressures of life to the right services.

"We are here at The Walled Garden (opposite Ashton Health Centre) on Ashton Park on Mondays, Tuesdays Wednesday and Thursdays, 9 until 3pm."
Grange Community Garden
Grange Community Garden, off Fir Trees Avenue, sites an orchard, two poly tunnels, a vegetable garden and pizza oven and welcomes the community to drop in and get stuck in.
This site, where visitors can drop in, is where a warm welcome by Volunteer Coordinator, Chris Taylor and canine companion Rusty awaits.

Chris said:
"We encourage people to come down and get involved and that includes schools who can learn more about gardening, growing and self-sufficiency at all our sites.

"There is also something to do, even in winter. We also hold formal training sessions and can even host corporate days. In warmer weather we cook pizzas from scratch, using our own produce and pizza oven so there is plenty going on. If you help tend to the garden, you can take away some food that is available".
The Hub on Grange Park
The Hub on Grange Park is open Monday to Friday 10 am until 3pm. There's a large indoor meeting room available for use by community groups, and kitchen facilities are available.
The Hub has a beautiful, peaceful garden which is dedicated to encouraging wildlife into the space. It's a wonderful asset in Moor Nook, Ribbleton and Let's Grow Preston are collaborating with local organisations who are using the building for meetings and lunches, as well as it being a lovely place to hold staff meetings and a base for the Friends of Grange Park.
Waverley Park
The Community Garden in Waverley Park, Ribbleton, was reopened in July 2022 by Jenny Hanley from Let's Grow Preston. Her role is not simply to develop and refurbish the community garden, but to empower, enable and educate the local residents so that they can run the site themselves.
Let's Grow Preston Awards

Let's Grow Preston has won a number of awards for its work including:
Selnet Small Social Enterprise of the Year 2022
BBC Radio Lancashire's Make a Difference award for The Community Project of the Year Award 2021
The University of Central Lancashire's Community Team of the Year Award 2022
The best Nature Based Project at the National Social Prescribing Awards 2022.
Annie Wynn was awarded her British Empire Medal (BEM) in the Queen's Birthday Honours List last year for her pioneering community work.
The charity was also recognised by the Queen in 2022, being one of only eight other organisations in Lancashire to receive a Tree of Trees from her Platinum Jubilee celebrations in recognition of the resilience-building in the community that the charity achieves.
Let's Grow Preston are always looking for volunteers to help; from driving the van to welcoming volunteers, to helping them to steer the charity - it is so much more than gardening!
Plus, they are always looking for corporate sponsors. If you are interested in donating or volunteering, please visit the Lets Grow website for more information.